No More Guesswork.
Use the Insurtech that Industry Leaders Trust For More Speed and Accuracy
Cutting-edge solutions that make it easy for the underwriter, broker and carrier alike.
Data management services
Algorithm automation
Application design and development
Data visualization
Not all solutions are created equal. Your solution must be designed for insurtech's specific requirements — security, compliance, large dataset handling and the right data collection and storage.
Plus the output has to be clearly visible, at a granular, actionable level with dynamic dashboards that surface the results your team needs when needed.
Our solutions always meet all these criteria because insurtech data is what we do.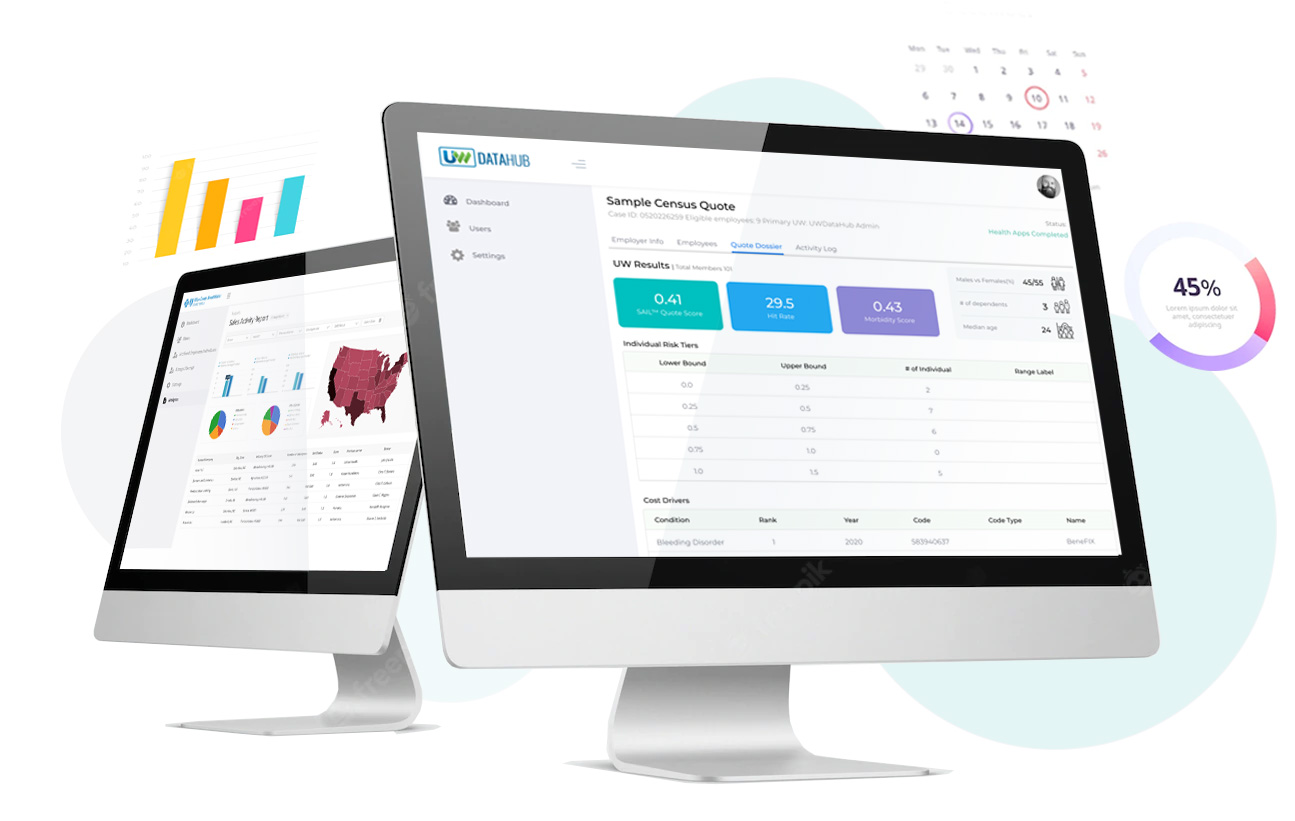 Why Empowered Margins
No one has experience in this field like we do: 70+ developers working for nearly a decade with some of the biggest brands in the industry, inventing better technologies, re-examining processes and tying in big data and AI.
Leverage Our Repeatability of Solution Design
Why re-architect? We probably already have what you need. We take a cloud-based solution design approach so that our data management work can be easily configured for your existing workflows.
And, as SMEs in insurance, we understand, not just the data that brokers, carriers, TPAs, reinsurers and support staff need, but the interactions that need to take place to make it actionable. With the User Experience they expect. Our ability to deliver data in the right format at the right time is what keeps our retention rate among the highest in the industry.
Solution Examples
Launched from ground-up a fully automated ICHRA enrollment that integrates, broker, employer, employee and carrier experience
Enable Workers Comp solutions that consistently rank higher in risk-assessment accuracy than conventional solutions, many times over
Provide end-to-end data collection and underwriting automation for brokers, carriers and plan sponsors through our UW Data Hub solution
Extract data you need more efficiently from structured and unstructured sources alike through AI-based OCR
Deliver plan data management solutions for self-insured groups that manage multiple offerings for large numbers of employers through our Plan Data Hub
Implemented broker-referral system that leverages 5500 IRS data and enables smart prospecting service
Built from the ground up platform to manage regulatory compliance across the entire product lifecycle, fully integrated with SERFF
Advanced Software
Our solutions optimize insurance data through analysis and visualization like never before.
A two-way street where the provider can pull up the right numbers at the right time based exactly on the level of coverage needed. In the context of similar insured groups across current and prior years.
Put Industry Comps To Work For You.